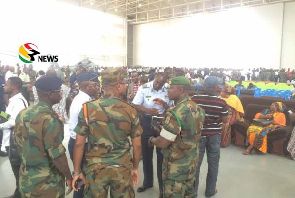 A crunch meeting convened by heads of military and police in the Northern region ended abruptly when the two sides got embroiled in heated confrontations.
Ironically, the meeting which lasted for about three hours was to find a lasting solution to recent bloody clashes between soldiers and police personnel in the region.
Thursday's meeting became necessary after the bloody clash on Wednesday, May 16, 2018, in the Tamale Metropolis.
"The meeting ended with no clear-cut solution to end the issue because tempers were very high from both sides especially the military" an insider disclosed to 3news.com after the closed-door meeting.
However, the source said, "an independent body to investigate the root cause of the recurring impasse was tabled down as one of the measures to resolve the issue".
The traditional route march, which has been a conduit in resolving such impasses was also brought up to foster harmony between the military and police in the interim.
A date is yet to be set for the march which would likely take place at the Jubilee Park.
"It was also recommended that the various commanders meet the respective services for more talks".
Meanwhile, the two security institutions are expected to ensure security in Bimbila ahead of the Supreme Court's ruling on who is the legitimate occupant of the Bimbilla skin slated for May 23.
They are also responsible for "Operation Calm Life" within the Tamale Metropolis.
Source: 3news.com