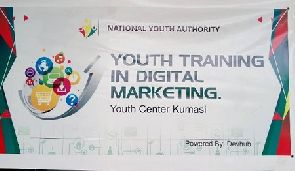 Twenty-five (25) laptops of the National Youth Authority (NYA) were stolen by participants who underwent a three-month Digital Marketing and Entrepreneurship training program in the Ashanti region.
The laptops were part of 30,000 laptops procured by government through the National Youth Authority to train youth in entrepreneurship.
CEO of National Youth Authority, Emmanuel Asigri announced this on Thursday May 17, 2018 during a graduation ceremony of 300 youth who benefitted from the online marketing training in Kumasi.
"It's very obvious situation if you have number of training kits for a particular program and it reduces, it means you cannot get the same number if you have to do a training for a targeted number," he said.
He revealed that another seven laptops were stolen by participants at a similar training in the Upper East region.
Mr Asigri has warned those in possession of the laptops to surrender them or would have the police coming after them.
"I am going to talk to the regional commander to order his men to go after everyone who is keeping our laptop," he stated.
The Digital Marketing and Entrepreneurship program seeks to empower young people to use either smart phones or tablets to run their business.
"The laptop does not become your personal property after you are done with the training," he maintained.
Source: otec