Entertainment
The guy claiming ownership of "Bobolebobo" song is insane – Evang. IK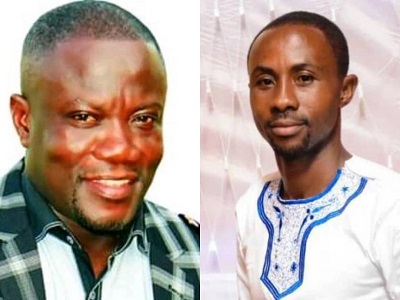 Ghanaian gospel musician Evangelist I.K Aning has stated clearly that Minister Isaac Sie, the musician who is claiming ownership of the "Bobolebobo" song Should be attended to medically because he is not sound.
There were speculations that Evangelist IK Aning has finally agreed that the original composer of the "Bobolebobo" song is Minister Isaac Sie.
To confirm those rumours, Collins T – host of Anokyekrom, an entertainment show on OTEC FM called Minister Isaac Sie on phone and he confirmed by saying he has met with I.K Aning and now peace has prevailed between them. He asserted that Evang I.K Aning has finally agreed that he is not the original composer of the "Bobolebobo" song.
Confirming also from Evangelist IK Aning via phone, he debunked such rumours and even described Isaac Sie as someone who is insane.
"I think Isaac Sie is insane and he needs medical attention for saying I have given in to his demands. It's not true and I'm the original composer of the Bobolebobo song", he added.
He continued by saying, the "Bobolebobo" song is an old song composed by me and I have got legal documents to prove that.
According to him, even the spellings of the title of the two songs in question differs. That of I.K's is "BOBOLEBOBO" and Isaac Sie's is "BOBOREBOBO", therefore why should Isaac Sie fight him over this.
The 'Akrugu Bambayo' hitmaker boldly challenged Minister Isaac Sie to take legal actions against him if he truly believes he is the original composer but for him, he is ready to provide all the necessary documents to defend himself.
Somewhere last week, Minister Isaac Sie accused Evangelist I.K Aning of stealing his song on the radio and described the 'Akrugu' hitmaker as a thief who use people's intellectual property without consulting them.
Isaac Sie said, the song was first aired in August and he is shocked the song has been stolen by his colleague gospel artiste without consulting him.
According to Isaac Sie, when a friend in Kumasi broke the news to him that his music has been stolen by I.K Aning, he thought they are all Christians so he would come to him for them to solve it amicably but from the look of things, the former is not ready to do that.
Source: www.otecfmghana.com/Siaw Anderson