Uncategorized
Administer Justice void of corruption – Akufo-Addo to Judges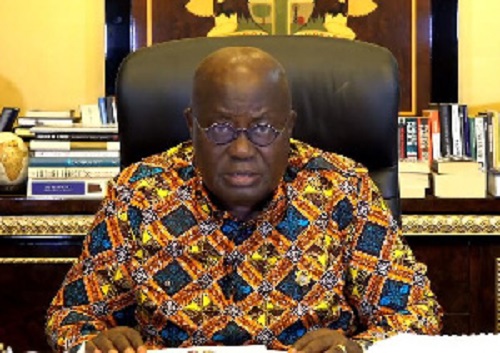 President Akufo-Addo, has thrown a challenge to Magistrates and Judges who will be appointed to serve the Adentan Municipality at the newly constructed Adentan Court Complex to administer justice that will be void of any form of corruption.
Addressing attendees at the commissioning ceremony of the Court Complex as part of the first day of his three-day tour of the Greater Accra Region, President Akufo-Addo said the quality of justice that is going to be delivered at the Court is extremely important just as the maintenance of the facility is.
"The quality of Justice that is going to be delivered here is the other part of the equation and on that, we leave it to the Judges to make sure they can give justice here that is free of corruption and that is also technically upright in the decision that they give" the President indicated.
Solar Energy
In his statement, President Akufo-Addo requested of the business community in the Adentan Municipality to come to the aid of the Judiciary in a public /private initiative to see how the Court can be assisted to introduce solar energy to power the entire Court facility.
"I will like to invite the business community in Adentan to have a very good look at how they can come together to assist the Municipal Assembly to build solar facilities for the work of this facility," President Akufo-Addo stated.
Chief Justice
Outgoing Chief Justice, Justice Sophia Akuffo, in her address, appealed to all would-be users of the Adentan Court Complex to make sure that when they come to the facility as justice seekers, they should be minded not to pay any monies to anyone by way of bribes.
"We don't take money for the work that we do. Every penny we take is for the State. Therefore other than what is billed to you and you pay and receive a receipt, please don't give any money, don't give any gifts. Even if the person was nice to you, just say thank you" Chief Justice Sophia Akuffo said.
The Adentan Example
The Adentan Court Complex was built by the Adentan Municipal Assembly with their own internally generated resources for the Judicial Service. It consists of a total of five Courts namely, two District Courts, two Circuit Courts and a High Court.
President Akufo-Addo, in his remarks, noted that Adentan Municipal Assembly has set an example that ought to be emulated by all other Assemblies across the country.
"Adentan has now provided us with a model and an example that should infuse in the rest of the country" President Akufo-Addo said.
Source: Ghana/otecfmghana.com