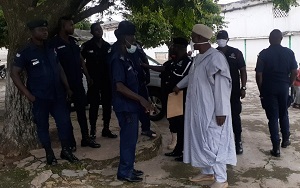 Reports reaching otecfmghana.com indicate that, the security personnel of Ghana Armed forces and Ghana police Service are alert at Kumasi Central Mosque to protect the Ashanti Regional chief imam Sheikh Abdul Mumin Harun.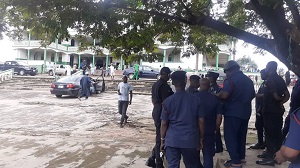 A group of aggrieved Muslim youth wants the Ashanti Regional Chief Imam, Sheikh Abdul Mumin Haroun to apologize or resign from his office by Wednesday for dragging the Muslim community into political confusion.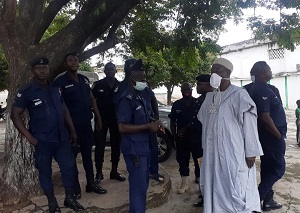 Upon reaching the executive Secretary of office of Regional chief Imam, Ustaz Ahmed Seidu on Friday October 2, 2020, confirmed the central mosque premises have been surrounded with the military as well as the police.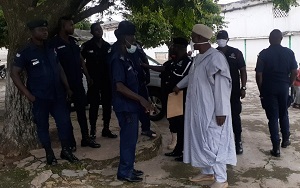 According to Ustaz Ahmed Seidu Regional chief Imam says they are aware of the police and the military personnel.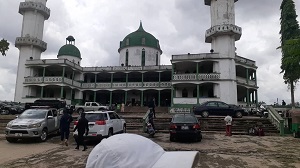 If you dare mess up with the peace we are enjoying at the Kumasi Central Mosque, believe you me, you will regret for coming here, He said.
Muslim Youth anger
A group of aggrieved Muslim youth wants the Ashanti Regional Chief Imam, Sheikh Abdul Mumin Haroun to apologize or resign from his office by Wednesday.

This follows what the youth says is the polarisation of the Muslim community with his partisan politics.
The Chief Imam has on many public platforms, according to them declared his support for the New Patriotic Party (NPP) causing disaffection amongst the Kumasi Muslim fraternity.
A Muslim youth group, led by one Mohammed Rabiu, gave him 3 days to resign or face their wrath.
Nevertheless, when Sheik Haroun was given the opportunity to pray at the commissioning of a Zoomlion recycling plant yesterday he dared them to remove him as he pledged his support for Nana Akuffo Addo.
"Nana Addo Dankwa Akuffo Addo is truthful. He is a man of his word. An example is free SHS, job opportunities, among others. I will pray for Nana to be retained for 4 more years. I made a remark that is making people call for my resignation. Some are saying they have given me three days to either retract or apologize.
"Still I pray for 4 more years for Nana Adoo. I don't care about the insults from people who say I am a member of the New Patriotic Party,'' he said
One of them is Islamic Cleric, Imam Ahmed Musah.
He believes that for the sake of peace, it will be best if Sheikh Haroun either resigns or apologizes as he fears an uprising by the youth.
"Whenever there are such comments from him, the Muslim scholars speak to him. It is becoming worrying. I think the youth are calling for his resignation because Sheikh Haroun has consistently been making such comments.
"All the elders' advice to him seems to fall on deaf ears. Whenever he makes such a comment, the youth raise concerns; the elders assure them of advising him but to no avail. I fear this uproar of the youth might be a national security issue soon," he pointed out.
He, however, assures leaders are speaking to both Muslim youth and the Chief Imam to calm nerves.
"For now, both Muslim youth and the Regional Imam himself are being engaged. I am positive this issue will be the last time it is discussed. I know the uproar will let him be careful with his utterances. I am sure henceforth, someone might be delegated to speak on his behalf during functions," he said.
Source: Ghana/otecfmghana.com