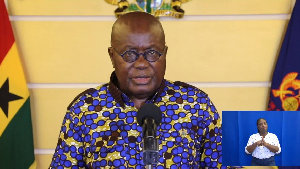 President Nana Akufo-Addo has urged Ghanaians to continue to strictly adhere to all the COVID-19 safety protocols so as to avoid a second wave in Ghana as is happening in some countries.
n his 18th national address to the nation on the pandemic on Sunday, 18 October 2020, the President said although the country has made significant success against the virus, the citizens must wear masks and practise social distancing and good personal hygiene so as to attain the goal of zero active cases.
The science and data tell us that the trajectory of the virus in Ghana mirrors that of an epidemic with reduced disease activity. Our daily infection rates are no longer in the hundreds as they were sometime back. Presently, they are in the tens, averaging twenty-five (25) new cases per day, in the course of last week. This is in sharp contrast with what is happening in the countries that are experiencing a second wave of infections, where, in some instances, new infections and hospitalizations are, sadly, in the thousands per day.
In spite of our successes, I would like to reiterate that this virus remains something of a mystery, and we should always rather err on the side of caution, and continue to observe the protocols that have brought us to where we are.
As President of the Republic, I assured you of my continuing commitment to limiting and stopping the importation of the virus, containing its spread, providing adequate care for the sick, slowing down community spread, reducing the impact of the virus on social and economic life, and using the opportunity afforded by this pandemic to expand our domestic production capacity, and deepen our self-reliance. I remain committed to these objectives, and I will not stray from them.
Source: Ghana/otecfmghana.com