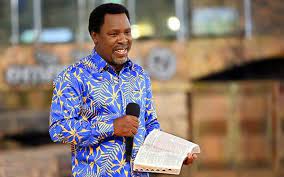 T. B. Joshua, a famous Nigerian preacher, televangelist, and founder of Synagogue Church of All Nations (SCOAN) has died.
The government name of the highly praised philanthropist is Temitope Balogun Joshua and he was born on June 12, 1963.
He was the leader, and founder of The Synagogue, Church of All Nations, a popular mega-church, which simulcasts its ministry's activities live on Emmanuel TV based in Lagos.
The popular Prophet receives thousands of visitations annually from Africa, Europe and Latin America, including presidents.
He has a heavy social media presence with 3,500,000 fans on Facebook.
The deceased pastor's YouTube channel, Emmanuel TV, had over one million subscribers and was the world's most viewed Christian ministry on the platform before it was suspended some time this year.
This earned him the name the "Oprah of Evangelism" and "YouTube's most popular Pastor".
In 2011, he made the Forbes list for being the third-richest pastor in Nigeria with an estimated net worth of $10 million – $15 million.
 This claims was immediately denied in a statement by the church.
Controversy was his middle name and he was even 'blacklisted' by the government of Cameroon in 2010.
SCOAN claims regular occurrences of divine miracles. Several hundred Nigerians and international visitors come to the SCOAN each week to register for the prayer lines where T B Joshua prays over the visitors.
It has published numerous videos claiming to document the healing of incurable disabilities and illnesses such as HIV/AIDS, blindness and open wounds.
T.B Joshua's spiritual healing at SCOAN has been the subject of several media reports, including a mention in Time Magazine, Associated Press and an article by Foreign Policy detailing the tendency of Nigerians to seek 'spiritual' help due to insufficient medical facilities.