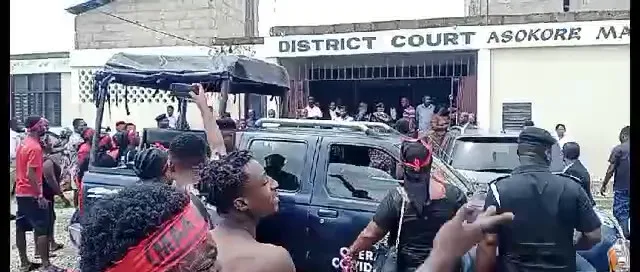 An autopsy report released by the Komfo Anokye Teaching Hospital has identified six bullet entry wounds and seven exit wounds on the body of the late Victoria Dapaah.
A Kumasi High court heard on Wednesday (26 July) that the deceased died of haemorrhagic shock due to multiple gunshot injuries. Pathologists described the manner of death as "unnatural".
State prosecutors told the court that six spent shells and a nine-millimetre service rifle allegedly used by Inspector Ahmed Twumasi to commit the crime were obtained at the scene.
The exhibits which also included a swab stick with blood samples obtained at the scene have been forwarded to the police forensic laboratory for examination.
Reports on spent shells as well as that of the pistol have been received, but that of the blood is not yet ready, the court heard.
Jury constituted
The accused person who is standing trial over Victoria Dapaah's death pleaded not guilty to murder charges before the Kumasi High Court. His plea was taken for the first time when he made his second appearance before the court during Wednesday's proceedings.
The court successfully empanelled a seven-member jury to hear the case. Defence lawyers reminded them to be impartial in the interest of justice. Sitting resumes on 28 August for a case management conference. The judge consequently remanded the suspect into prison custody.
Family members who flocked to the court broke down in tears as the suspect was being transported from the court amid heavy security. Some were seen raining curses on him while others granted interviews to demand justice for Dapaah who they described as a "kind-hearted human being".
"With the proceedings at court today, we know everything will be fine. So, we urge all Ghanaians to be patient because we hear most people saying that the case would lead nowhere, but we have faith in the way things went today. What is disturbing is that the accused who has been tagged as the 'beast' is defending himself as not being guilty, but you have killed someone", said Nana Addo Barima, uncle of the victim.
"We are hopeful that sittings on the case will be done quickly for judgement to be passed. But for now, the lawyers and the judges have all agreed that the case be postponed to 28 August, and we believe that justice will be served," he stated.