Education
Nkawie ''Sir John'' presents mathematical sets, pens to BECE candidates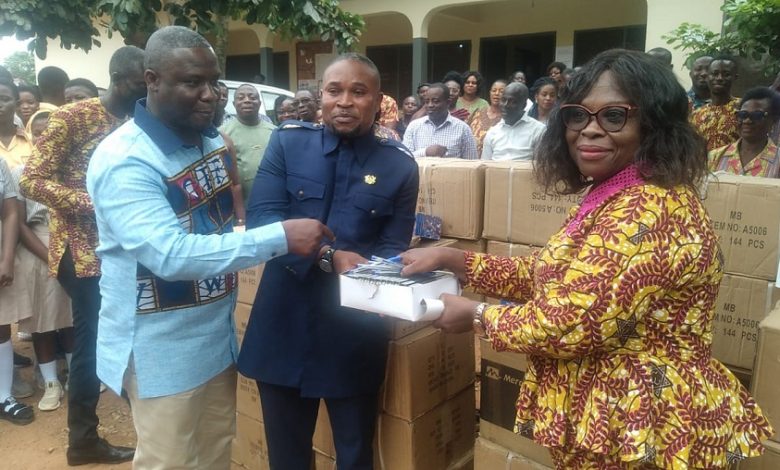 John Kwame Duodu (middle) presenting the mathematical sets and pens to Juliana Essel-Cudjoe, Municipal Director of Education as the MCE, Michael Amoah Awuku(left)
The First Vice Chairman for the Atwima Nwabiagya South Constituency, John Kwame Duodu popularly known as ''Sir John'' on Monday presented boxes of mathematical sets and pens to Junior High School Pupils who are about to sit for their Basic Education Certificate Examinations (BECE) in the Municipality.
Making the symbolic presentation at the precincts of the Municipal Education Directorate at Nkawie, the NPP First Vice Chairman said ''I am only following the example of my President who has ensured that Education from Basic to SHS is free and today I am here to donate these Maths sets and pens so the BECE pupils would know we are solidly behind them to succeed''.
The NPP executive stated that the success of the pupils in the upcoming exams would portend better things for the Municipality hence the decision to support them so that they can do well and get the chance to enter Senior High Schools and further their education.
''I sincerely believe the government has done its part to make education, especially tuition, boarding, feeding and others free but we as citizens can contribute to making the pupils and schools feel relieved by providing some basic items they would need'', Sir John appealed.
Municipal Education Director:
Juliana Essel-Cudjoe, Municipal Director of Education while receiving the items from the NPP constituency Vice Chairman said the directorate was happy to have this support.
She noted that the items had come in handy since the BECE exams were slated for next week Monday, the 7th of August, 2023.
The Director encouraged the pupils to see the gesture as motivation for them to do well in the papers they would be writing.
''I want to thank Sir John for this gesture and ask others to learn from this and support the educational efforts of this directorate so that together we can give our pupils and students the best of education'', Madam Essel-Cudjoe stressed.
MCE:
Michael Amoah Awuku, Municipal Chief Executive for Atwima Nwabiagya South said the Assembly was grateful to the NPP Vice Chairperson for the gesture.
He noted that apart from the gesture being timely it was also a good one to encourage the pupils to give off their best in the upcoming examinations.
The MCE called on other residents of the area to learn from the example of the NPP Vice Chairperson so that they all could play a part in giving good education to the people of Atwima Nwabiagya.
''I urge our BECE pupils to look at this gesture by Sir John Duodu as motivation and purpose in their hearts to do well in the upcoming examination'', Mr Awuku stated.
Source: Ghana/otecfmghana.com/ Michael Ofosu-Afriyie, Kumasi.