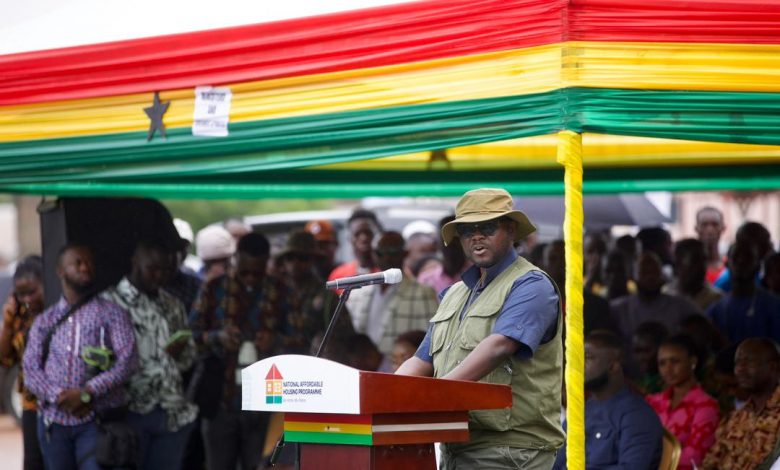 The Minister for Works and Housing, Francis Asenso-Boakye says the President Akufo-Addo is committed to completing all housing projects started by previous governments.
He says the government is taking the necessary steps to revive the Saglemi Housing Project and others which encountered fundamental challenges.
The Minister, who was speaking at the commencement of the Pokuase Housing Project at Pokuase on Tuesday, August 1, said the current government is focused on building affordable homes for the ordinary Ghanaian.
In his address, the Minister, who doubles as the Member of Parliament for the Bantama constituency in the Ashanti Region, explained why the Saglemi Housing Project has stalled.
"In 2006, under the leadership of President John Agyekum Kufuor, government launched an Affordable Housing Programme which aimed to construct 5,000 housing units in six (6) different towns over a five-year period. Unfortunately, despite the noble intentions, the project did not yield the anticipated outcomes, due to challenges in project conception and funding."
"However, significant steps have been taken by government to complete some of the projects, including completed ones at Asokore Mampong in the Ashanti region, Borteyman and Kpone in the Greater Accra region, while the others are being given the due consideration."
"Similarly, in 2012, under the leadership of President John Evans Atta Mills, and later President John Mahama, the NDC government also initiated the Saglemi Affordable Housing Project, with the intention of addressing the country's housing needs. Regrettably, this project also encountered fundamental challenges, which halted the project due to various factors. Government is taking the necessary steps to revive the project."
"These projects did not progress as expected, primarily, because it failed to consider the entire ecosystem involved in the delivery of housing, such as the availability of land, infrastructure, sustainable funding, building materials, and an inclusive demand-side arrangement," he said.
Meanwhile, the lawmaker said the Pokuase Housing Project has been taken through the necessary feasibility and viability processes to ensure it does not face the challenges of the previous ones.
According to him, the government in this project will offer "free unencumbered land and associated infrastructure" to the private sector to construct the housing units at an agreed selling price.
"Unlike the previous efforts, this revised programme stands out, as distinct and exceptional in multiple ways. This distinction arises primarily from the valuable insights gained from our past experiences, inspiring our commitment to approach things the right way, this time."
"When I assumed office in 2021, we took the decision to undertake a comprehensive review of the public housing profile. This review led to the development of a revised framework, which consist of two (2) parts: the supply-side and the demand-side."
"On the supply-side, the government will provide free unencumbered land and associated infrastructure, after which the private sector will be invited to construct the housing units for its subsequent sale at an agreed selling price."