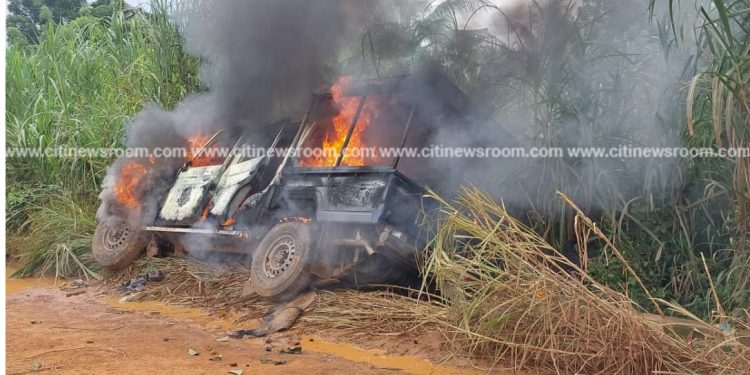 Tension is brewing in Godenu, a village near Hohoe in the Volta Region after the police allegedly opened fire on residents, leaving three persons dead and several others injured.
The incident happened on Wednesday morning, August 30, 2023, when the police attempted to arrest a man suspected of carrying Indian hemp from his farm.
The man escaped into one of the houses in the village on his motor bike, and the police allegedly began shooting indiscriminately, resulting in the death of three residents and injuries to several others. The police are alleged to have also burnt all motorbikes on sight.
In retaliation, some residents allegedly set one of the four police vehicles on fire.
The injured persons are receiving treatment at the hospital, while the bodies of the deceased have been sent to the morgue.
The MP for the area has been informed about the incident, and the police have launched an investigation.
The residents have locked themselves up in their rooms, fearing being shot if they come out.
Narrating the incident to citinewsroom.com a resident named Francis Kakraba said, "In the morning around 10:am, I heard some gunshots. I rushed out and saw some people screaming. The police after failing to arrest a farmer who was returning from his farm suspected to be carrying Indian hemp rushed to the community and started shooting. Some of their vehicles caught fire in the process. Some people sustained injuries and others have died."
The incident has sparked outrage among the residents, who are demanding justice for the victims. They are also calling for an end to police brutality in the area.