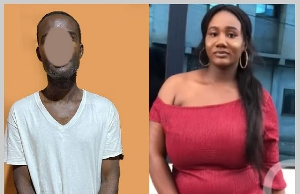 The state attorneys handling the case of Police Inspector Ahmed Twumasi, who is alleged to have killed his girlfriend at Adum in Kumasi, have requested additional time to prepare and file witness statements.
The court has thus granted their request and has adjourned the case to September 19, 2023.
In the previous court session, a seven-member jury was assembled to meticulously review all evidence presented during the trial.
Despite being charged with murder, the accused maintains his plea of not guilty.
Present in court were Inspector Ahmed Twumasi, the suspect, along with his legal representatives.
After the court proceedings, Nana Addo Barima told journalists that "In today's proceedings, our lawyer said he had about two or three evidence to put before the court for which reason he didn't want the court to go on with the proceeding. So he pleaded with the judge to give him some time to put together the evidence. So the judge asked that the case be adjourned to the 19th of September."