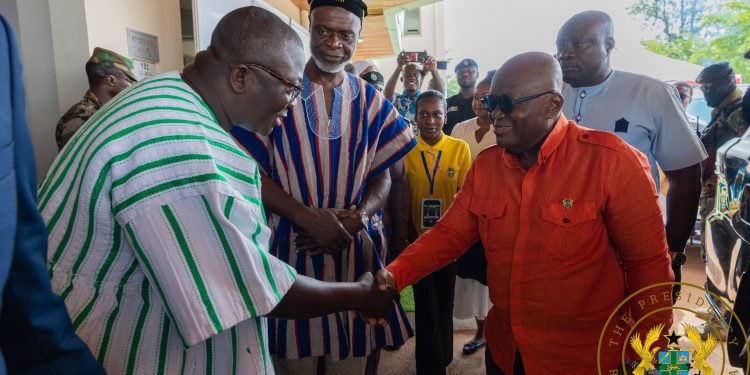 The Minister for Food and Agriculture, Bryan Acheampong says the second phase of the Planting for Food and Jobs (PFJ) initiative by the government seeks to make the country food self-sufficient within the next five years.
President Nana Addo Dankwa Akufo-Addo, on Monday, 28th August 2023, launched phase two of the government's flagship programme on agriculture, PFJ at the University for Development Studies, in Tamale.
Targeted at building on the successes of the initial programme, the second phase of the programme is a five-year master plan for the transformation of agriculture in Ghana with a focus on modernisation through the development of a selected commodity value chain and active private sector participation.
Speaking at the launch, President Akufo-Addo stated that the second phase, by design, "takes a holistic view and places greater emphasis on value chain approaches by focusing on strengthening linkages between actors along eleven selected agricultural commodity value chains broadly categorised into grains, roots and tuber, vegetables and poultry."
He added that phase two of the programme also seeks to improve service delivery to maximise impact, and substitutes direct input subsidy with smart agricultural financial support in the form of comprehensive input credit, with provision for in-kind payment.
While throwing more light on the initiative in an interview on Eyewitness News on Citi FM in Accra on Monday, Mr Acheampong said: "We are going to focus first on the foods that are important to Ghanaians that contribute to our dietary needs. For vegetables, we are looking at onions and tomatoes. For grains, we are looking at maize, soya, rice and sorghum and for plantain tubers and roots, we are looking at plantain itself, cassava, yam and then, we are also focusing on one protein which is poultry and the focus on poultry will be broiler."
"We are clear in our mind that with these 10 crops and poultry with the five-year development plan that have developed, we have a new marking scheme that we are setting for ourselves as a country. We should be food self-sufficient in tomato, onion, pepper, rice, maize, cassava, legumes, and yam, plantain. We should in five years be self-sufficient and to be able to export these crops and poultry."