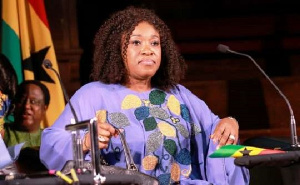 Foreign Affairs Minister Shirley Ayorkor Botchwey has lashed out at staff at the passport office for allegedly engaging in corruption-related activities that have tarnished the office's reputation.
The minister expressed her anger over the constant extortion of money from applicants by passport workers and "goro boys and girls" to expedite their services.
Madam Botchwey said that the staff at the passport office work with a cartel of "goro boys and girls" to manipulate the system.
She stressed the importance of sanitizing the passport system and, as a result, relieved staff seconded to the office effective August 21.
She lamented the accusations that are levelled against politicians when, in fact, some public and civil servants have been engaging in corruption and corruption-related activities.
The minister indicated that an investigation is underway and that the culprits will be punished if found guilty.
Addressing journalists, she said, "I told my officers to put up an online system, now the online system is being manipulated so that people can make money off it. There are investigations going on, and some names have been mentioned. There's a cartel of people who are working with people from inside. Anybody who has been here for more than one year, from Monday on, please do not come back because you have been changed. We want to bring some sanity. Every time, we say, politicians are corrupt, meanwhile, it is some public and civil servants who will do things that shouldn't be done, and then they will be put it on politicians. We are trying to bring sanity into the system but no".
Shirley Ayorkor Botchwey also wants all serving security service personnel stationed at the Passport Office in Accra to be sacked.
Madam Botchwey says the personnel have overstayed their duration at the Passport Office.
Speaking to journalists after a surprise to the Passport Office, Shirley Ayorkor Botchwey says it's unacceptable that Ghanaians pay over GH¢3000 to acquire a passport.