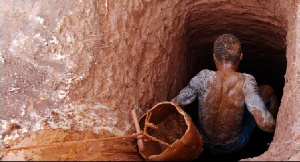 Galamsey pit collapses at Bonsawire, 7 dead

Seven people have lost their lives at Bonsawire in the Tarkwa Nsuaem Municipality after a galamsey pit collapsed on them.

Seven more victims are still trapped in the pit while two victims who sustained various degrees of injuries have been admitted at the Tarkwa Municipal Hospital.

Information gathered by OTECNEW indicates pit caved in while the victims were prospecting for gold ore on Saturday afternoon September 23, 2023.

According to the site owner who gave his name as Aboagye, they were trying to use an excavator to dig to find the trapped victims, but they were able to remove nine people of which seven were dead.

"We had to stop the excavation because while the machine was trying to dig, it begun sinking, so we have stopped so we could use man power to dig, maybe can find some of them alive", he said.

The dead victims were made up of four males and three females.