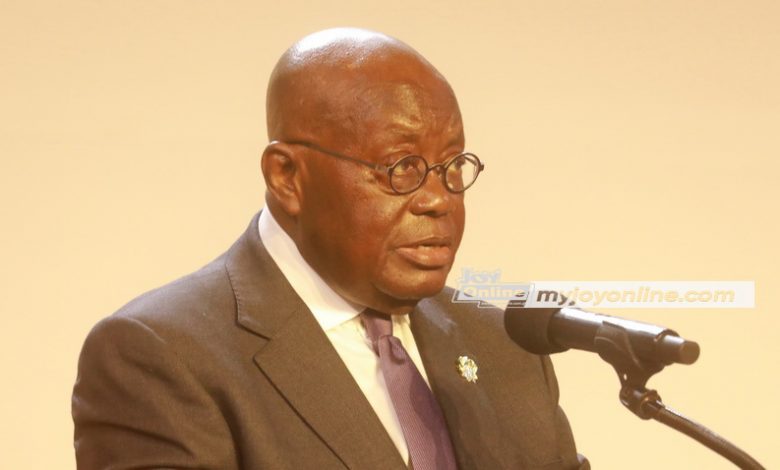 President Akufo-Addo has taken on former President John Mahama for saying that he has packed the Judiciary with NPP-aligned judges.
The President said the comment by Mr Mahama is very dangerous to the progress of the country and thus should not be made by someone of his stature.
Addressing the Ghana Bar Conference at the University of Cape Coast on Monday, September 12, President Akufo-Addo said this is the most blazing attack the Judiciary has faced in Ghana's history.
He thus urged the public to call out the former president for such "reckless" comments that seek to jeopardise the Judiciary.
"I have gone into this matter in detail because of a new issue which has been introduced into our public discourse by no less a public figure than the fourth president of the fourth republic perennial NDC Presidential Candidate John Mahama who has told the world that I have packed the courts with so-called NPP judges and that one of the key purposes a putative NDC victory in 2024 will be to enable him to balance the courts with so-called NDC judges."
"Not only are these concepts new in our public discourse but they are also extremely dangerous and represent the blazing attack on the independence of the judiciary by allegedly responsible politicians," he said.
He thus charged NDC lawyers to prepare themselves to take up positions on the bench to balance out its composition.
"Our lawyers, some of you must be prepared to go onto the bench, I know that some of you have very lucrative legal practices you will not want to leave and go onto the bench. But you can see what the current President has done; he appointed the largest number of judges onto the bench. More than 80 towards hundred and counting.
"He's packed the court and we know that they've packed the court because they want to avoid accountability after they have left office.
"So, all manner of people who have been known to be partisan, to have been executives of their party who are in the legal profession have been leapfrogged onto the Superior courts and other places," he said.
These comments by Mr Mahama, the President have been described as dangerous and should not be entertained by Ghanaians.