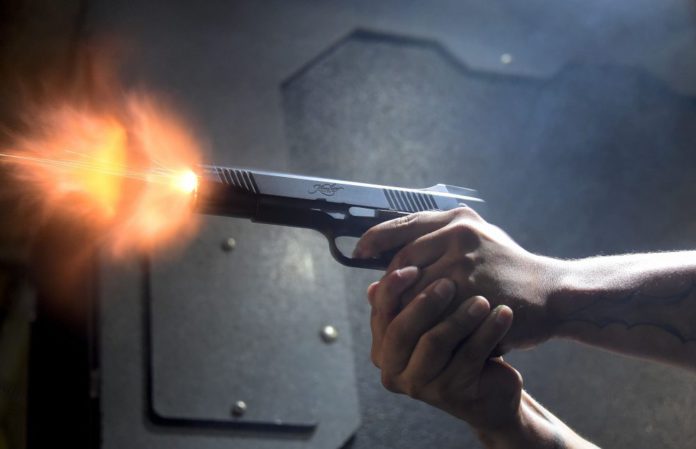 A motor riding gang attacked a 25-year-old lady at Aprade Junction in the Oforikrom Municipality on Wednesday, September 20, 2023, at about 7:00 PM.
The gang opened fire on the lady, shooting her multiple times in the legs.
The incident caused bystanders to run in all directions to take cover.
It is unclear whether the lady attempted to resist the gang who attacked her on the quiet junction to rob her of her belongings.
Meta Description: "A motor riding gang opened fire on a 25-year-old lady during a robbery attempt at Aprade Junction in the Oforikrom Municipality. Eyewitnesses recount the incident and express concerns about rising crime in the area."
Eyewitness Account
A taxi driver who made a daring dash to whisk the bleeding lady to the Living Waters Hospital, Prince Agyapong, recounted how residents in the area were living under constant fear of attacks from these motor riding robbers.
He told Ultimate News' Ivan Heathcote – Fumador that "the gang members do not look like persons who live in Aprade.
"They come riding these royal motorbikes looking all suspicious. I passed them when I was driving here, and my instinct told me they were going on an operation."
A few moments afterwards, I heard sporadic shooting. I turned round and got closer to find this lady under attack. I am a quite brave young guy so as people were running away I rather went straight to the lady, lifted her and stopped a friend's taxi to rush her to the hospital," he narrated."
"My brother, if you see what they have done to the legs of this young lady who is wailing uncontrollably in the emergency ward, you will be driven to tears. It's a pathetic sight," a saddened Agyapong added.
Residents Concerns
Residents of Aprade, Oduom, and its adjoining communities dotted along the Kumasi Ejisu highway in the Ashanti Region, especially women, have become targets for motor riding gangs pounding on unsuspecting persons at dawn and in the evenings.
A woman who spoke to Ultimate News recounted several incidents where these robbers lay ambush at dawn waiting to snatch the belongings of traders who would usually leave home around those early hours for the market.
"Just four days ago, they came back here, held a woman and robbed her of her money and everything she had on her. They are strangers to this community," she recounted.
Police Response
The heroic taxi driver Prince Agyapong expressed worry that all their complaints to the police to beef up patrols in the area had fallen on deaf ears.
"When this incident happened, police from Tech; Oduom, Ejisu, and all these areas have now woken up from their slumber to come asking what happened. Why will they have to wait for people to die before they act? Imagine if I were called that my sister had been attacked and maimed by armed robbers like this?" Agyapong questioned.
As of 10:30 PM, the family of the victim, who indicated they lived far off in Bekwai, were yet to get to the hospital to offer assistance, leaving the taxi driver playing family to the young lady.