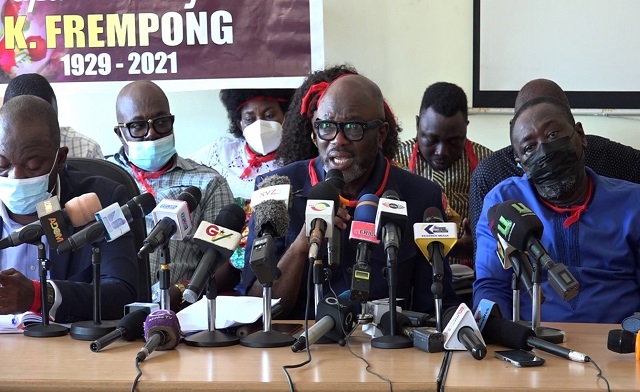 The President of the Ghana Union of Traders Association (GUTA), Dr. Joseph Obeng, has warned the Ghana Revenue Authority (GRA) against using intimidating tactics to implement the Upfront Payment of the Value Added Tax (VAT).
Addressing the media in Accra on Wednesday, Dr. Obeng said GUTA members will no longer tolerate the GRA's "Rambo style" approach to enforcing the new tax law.
"We will no longer tolerate such acts of intercepting our cargo after leaving the port," Dr. Obeng said. "If anything at all the effects of the COVID-19 pandemic and geopolitics have affected the business community more and we can no longer entertain any abuse of authority in carrying out our legitimate businesses."
Dr. Obeng also criticized the GRA's practice of sending "invigilators" to sit in traders' shops and monitor their sales.
"As if that is not enough, GRA also goes further to frustrate members of the business community, especially traders by sending what they call invigilators to sit in our shops and monitor our sales as if we are in a police state which perceives business operators as criminals," he said.
Dr. Obeng recommended that the GRA restructure the VAT system to make it fairer and more equitable, rather than using intimidation to enforce it.
"What needs to be made clear is that the VAT system which is a consumption tax should be restructured to bring fairness, parity, simplicity and affordability to ensure effective compliance as the only way forward to compel both the trader and the consumer to abide by the policy," he said.
Dr. Obeng also charged GUTA members to resist any intimidatory attempts by the GRA to enforce the new tax law.
The GRA's Upfront VAT payment policy was introduced to improve VAT compliance and reduce tax evasion. However, the policy has been met with resistance from some businesses, who argue that it is unfair and burdensome.
The GRA has defended the policy, arguing that it is necessary to ensure that all businesses pay their fair share of taxes. The GRA has also said that it is committed to working with businesses to implement the policy in a way that is fair and reasonable.