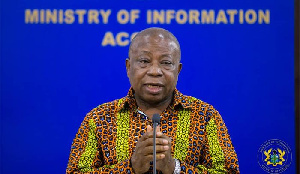 The Ministry of Health has announced that it has cleared the antiretroviral medications that were delayed at the Tema port.
It was alleged the medication donated had been sitting at the Tema port since July 2023 as a result of the Ministry's alleged inability to pay the import duties.
The Minority in Parliament had urged the government to issue the necessary tax exemption to ensure the immediate clearance of the medication.
The Health Ministry however denied the claims that the delay was due to the lack of tax waivers and assured that the medicines would be cleared by October 13.
In a press release on Monday, October 16, the Health Ministry disclosed that the medication was cleared on Friday, October 13 as promised and indicated that it had begun distribution to the various hospitals across the country.
"The Ministry of Health is pleased to inform the general public that the antiretroviral medications which delayed at Tema port were cleared on Friday, October 13, 2023, as was assured by the Ministry in relation to the rejoinder published on Saturday, October 7, 2023, on the aforementioned subject matter.
"The distribution of the medications to all affected facilities has begun in earnest."
The press release further assured that the "Ministry is working in close collaboration with the Ghana Supply Commission to ensure seamless clearance of such drugs and related ones in future."
Below is the Ministry's release.