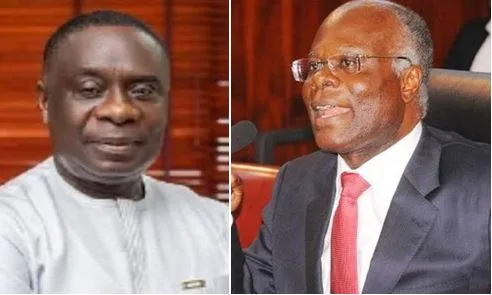 The High Court in Accra has dismissed an application for Contempt filed against Minister for Trade and Industry, K T Hammond.
This was after the Court presided over by Justice Mary Maame Ekue Yanzuh ruled that the application filed by Member of Parliament (MP) for Assin North is "without merits."
Lawyers of James Quayson who is standing trial for charges including perjury on July 7 filed a Contempt application against the minister for comments he made in an interview.
These comments lawyers of the Assin North MP deemed it contemptuous on grounds that K.T. H Hammond had pronounced their client guilty when the case is still pending.
But, the Minister and his lawyers opposed the application.
Ruling on the application on October 19, 2023, Justice Mary Yanzuh held that, the content of the application before her was not complete enough to appreciate the context of the comments made by the Minister.
The Court also held that, though the interview was made in Twi, the applicant did attached the full evidence of the said contemptuous Comments.
Consequently, the Contempt application the Court said is dismissed as it is without merits.
EIB Network's Legal Affairs Correspondent, Murtala Inusah who was in Court reports that, the substantive matter has been adjourned to October 27.
Affidavit in Support
Per the Statement of case, it was the case of Quayson and his lawyers that, in an interview on 4 July 2023 on a TV station, Oyerepa TV, the Respondent categorically pronounced the accused person guilty of the charges for which he is standing trial in this court and the Respondent went ahead and stated that the Accused/Applicant will go to prison.
According to the applicant, by the words of the Respondent which have been widely publicized nationally and internationally, the Respondent is violating the right of the Accused/Applicant to be presumed innocent as well as the right of the accused to a fair trial.
The Applicant said the words of the Respondent are also in contempt of this Honourable Court as they are extremely prejudicial to the lawful process of this Honourable Court.
The Applicant said, such prejudice undermines the lawful judicial process and may even bring the said judicial process into disrepute as it will create in the minds of members of the public that no other conclusion other than that pronounced by the Respondent can occur.
"The Respondent is brazenly usurping the function of Her Ladyship, the trial judge, ni this court.
"That by virtue of Article 126(2) of the Constitution, this court has the power to commit the Respondent and people of his ilk for contempt of itself in order to keep the streams of justice pure.
"That the Respondent has no respect for the judicial process and the interview granted by the Respondent, in its totality, is ni egregious contempt of this Honourable court.
"WHEREFORE I swear to this affidavit in support of the application herein for the Respondent to be brought before this Honourable Court and tried for contempt of court and sentenced to prison if found guilty."
Source: Ghana/Starrfm