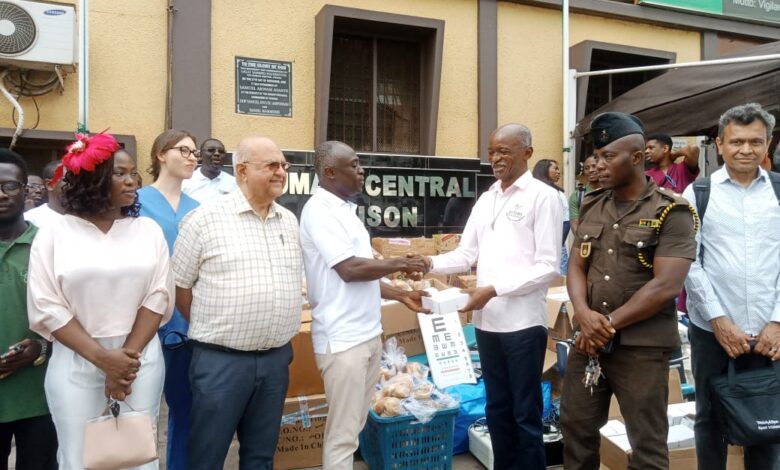 Dr Kwame Boateng Agyeman (left), President of United Service To Africa presenting some of the items to Assistant Director of Prisons (right), Mr James Mwinyelle
A group of medical professionals and practitioners based in the USA by name United Service To Africa (USTA) has screened inmates at the Kumasi Central Prisons. 
The gesture a yearly affair by the group to parts of Ghana as well as other parts of Africa is aimed at giving back to the African continent.
Speaking to the media after presenting medical items and supplies to the Authorities at the Kumasi Central Prisons, Dr Kwame Boateng Agyeman, President of USTA, said the group was focused in using their services to better the conditions of African citizens.
"We are a professional body that believes in using our medical expertise to better the lot of people especially those on the African continent in the area of health and for us we have been coming and doing this for many years now", Dr Agyeman stated.
Screening Exercise:
Later the same day, the group screened over 2, 000 inmates at the Kumasi Central Prisons for various ailments.
Mounting clinical sheds at the precincts of the prisons, the Medical Team screened the inmates who came in turns in Malaria, Hypertension and Diabetes.
The Team also mounted a stand where the inmates tested to know the health of their eyes and sights.
The USTA officials also attended to those who were sick and needed urgent attention with some receiving medications to treat their ailments.
Reception:
Assistant Director of Prisons, Mr James Mwinyelle thanked the USTA team for the gesture.
He noted that the Prison was struggling to cater for the health needs of the inmates.
Such support and screening exercises from groups like USTA and others, he noted helps the Prison Authorities to know the state of persons they were overseeing so that they could keep track of their health.
"We are highly distressed taking care of these large numbers meanwhile the ration of the inmates is low making some to fall sick regularly with some requiring urgent attention. And so gestures like this of USTA are welcome and we pray for more support to enable us treat these human beings well", Mr Mwinyelle appealed.
Source: Ghana/otecfmghana.com/Michael Ofosu-Afriyie, Kumasi.