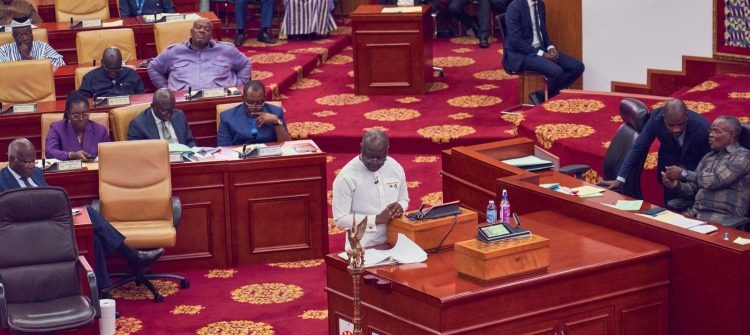 The Finance Minister, Ken Ofori-Atta, delivering the government's fiscal plan for 2024 to Parliament on Wednesday, November 15, projected that the total revenue for the year is estimated at GH¢176.4 billion.
In outlining the 2024 Budget Statement and Economic Policy, Ofori-Atta highlighted that the government's anticipated total expenditure stands at GH¢226.7 billion, representing 21.6 percent of the Gross Domestic Product (GDP).
He went on to elaborate on the comprehensive fiscal strategy, noting a substantial reduction in total expenditures, amounting to 6.1 percentage points of GDP compared to the 2022 outturn. This reduction, he explained, results from a combination of fiscal consolidation efforts, encompassing a 4.9 percentage point adjustment in revenue and a 4.0 percentage point adjustment in primary expenditure.
Ofori-Atta also highlighted the potential interest rate savings anticipated from the ongoing external debt operation, emphasizing its positive impact on public finance sustainability.
"Mr Speaker, Total Revenue and Grants are projected at GH¢176.4 billion (16.8 percent of GDP) and is underpinned by permanent revenue measures largely Tax revenue measures amounting to 0.9 percent of GDP.
"Total Expenditure (commitment) is projected at GH¢226.7 billion (21.6 per cent of GDP). This projection reflects a reduction of 6.1 percentage points of GDP in total expenditures (commitment basis) relative to the outturn in 2022.
"This large decrease comes from the combination of fiscal consolidation efforts of 4.9 percentage points of GDP, reflecting an adjustment in revenue by 1.0 percentage point and primary expenditure by 4.0 percentage point of GDP.
"The potential interest rate saving from the ongoing external debt operation will further bolster public finance sustainability. Mr. Speaker, based on the estimates for Total Revenue & Grants and Total Expenditure (including arrears clearance), the overall Budget balance to be financed is a fiscal deficit of GH¢ 61.9 billion, equivalent to 5.9 percent of GDP. The corresponding Primary balance is a deficit of GH¢5.9 billion, equivalent to 0.6 percent of GDP."