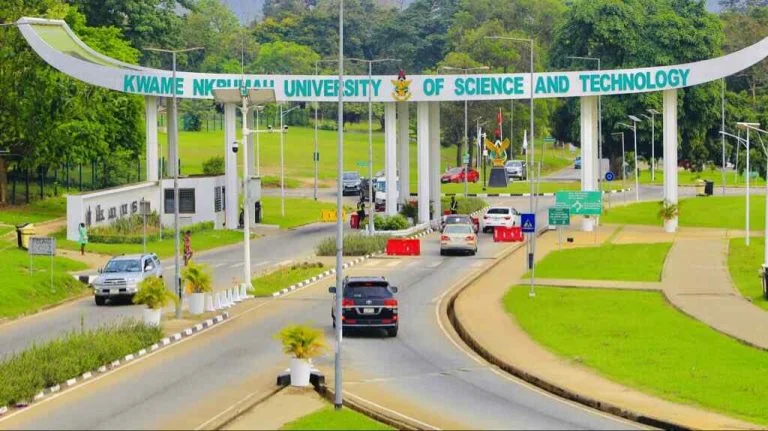 The Kwame Nkrumah University of Science and Technology (KNUST) will host the 8th edition of the international conference on Infrastructure Development in Africa.
The three-day meeting will commence on November 19, 2023 and end on November 22, 2023 and will be held on the theme "Sustainable and Resilient Infrastructure Development in Africa's Changing Climate".
The event is expected to bring together hundreds of participants from across the world.
The conference would be held under the joint auspices of the
KNUST with support from the University of Manchester, UK. and the
University of Johannesburg, , South Africa.
The Management of KNUST on Monday issued a press release reiterating their readiness to host the program and copied OTEC News Desk
Find below full schedule of the conference and all speakers book to address participants at the event.
Background
Climate variability and change is expected to have disproportionate impact on human lives and infrastructure delivery, use and maintenance in Africa. These infrastructure systems encompass interconnected networks of assets that provide essential services for people and the economy. Such infrastructure systems help to: deliver inputs like electricity; supply water to households and businesses; dispose of solid waste and wastewater; connect people and the economy through access to transport and digital communications, among others. According to the Council of Europe Congress of Local and Regional Authorities, infrastructure shapes the urban environment and drives long-term, equitable economic growth. Therefore, all stakeholders must build a high-quality, dependable, long-term, and resilient infrastructure capable of supporting economic growth and social well-being.
Even with the numerous benefits associated with infrastructure systems, most of such systems still need to be planned and built to withstand the adverse impact of climate change. Although such systems could be affected by the physical impacts of climate variability and change, it is vital that they are planned and designed to build resilience to the variabilities in the climate. According to the OECD, infrastructure could be classified as climate-resilient if it has been planned, constructed, built, and managed so that it predicts, prepares for, and adapts to changing climatic conditions.
Underinvestment in infrastructure has, over the years, resulted in the under-supply of relevant facilities and services in many African countries, thus, limiting their progress. Even so, if climate change could strain Africa's under-supplied infrastructure, then there should be concerted effort to combat its impact(s) in Africa. New infrastructure assets ought to be prioritized, planned, designed, built, and operated to account for the changing climatic conditions. In addition, existing infrastructure susceptible to these climate variabilities could be retrofitted to avert their potential impacts. To develop more sustainable and resilient infrastructure, now more than ever, there is the need to engage a wide range of actors, in the public and private sectors and academia, to take the necessary actions to strengthen infrastructure climate resilience. This conference provides the platform for deliberating the delivery and management of infrastructure in Africa, in the face of a changing climate. It is to engage various stakeholders on the continent, and beyond, on how to develop and deliver sustainable infrastructure that is resilient against climate variabilities.
Conference Aim and Objectives
The conference aims to explore ways in which academia and industry could come together to deliberate on developing more sustainable and resilient infrastructure in the wake of global climate change. The conference framework is the confluence of the following seven broad themes:
Sustainable Infrastructure and Environment
Policy and Governance Perspective
Infrastructure Design and Construction
Infrastructure Management
Infrastructure Investment and Financing
Innovation and Capacity Building
End-User and Other Perspectives
The papers submitted for the conference might explore topics including, but not limited to, the following:
Adaptation to climate change in infrastructure planning
Green Infrastructure and climate adaptation
Infrastructure, engineering, and climate change adaptation
Global climate change, adaptation, and infrastructure issues
Sustainable and Green buildings
Circular Economy
Industry 4.0 and 5.0
Net zero carbon design and construction
Innovative design thinking
Indoor environmental quality and management
Gender-based Issues in infrastructure development and Climate Change
Global construction education in resilient infrastructure
Housing affordability and sustainable development problems
Climate resilient housing policies
Innovative financing of climate resilience infrastructure
Land use planning and sustainable development
Maintainability and resilient infrastructure development
Material management and environmental concerns
Disaster-resilient built environment
Responsible consumption and production
Clean and affordable energy
Art and the design of resilient infrastructure
NOTE: These sub-themes are non-exhaustive. Authors are encouraged to propose and address topics within the conference's thematic areas.
Student Papers
The ICIDA conference seeks to promote research and collaboration in Africa and beyond. Hence, the organizers are encouraging the submission of papers and research proposals from students (especially, postgraduates) in relation to the theme of the conference. These will be presented in a special session to be held for such students during the conference.
Important Dates/Deadlines
| | |
| --- | --- |
| Submission of Abstracts | 15th June 2023 |
| Notification of acceptance of abstract | 30th June 2023 |
| Full paper submission | 30th August 2023 |
| Notification of decision on papers | 30th September 2023 |
| Submission of revised papers | 15thOctober 2023 |
Guidelines for the submission and acceptance of abstracts and papers:
Please submit your abstract of not more than 250 words and include up to 5 keywords to icida.cabe@knust.edu.gh
Abstracts will be sent to two referees. Only the authors whose abstracts pass this peer-review process will be invited to submit full papers.
The deadline for the submission of abstracts is 23:59hrs GMT on 30th June, 2023.
Details of full Submitted papers will be reviewed two members . The author(s) of accepted papers will be invited to present them at the conference. At least one of the authors must register and attend the conference.
In addition to the above, the conference is open to private individuals and corporate entities interested in the delivery, use and management of resilient infrastructure and sustainable development in the global south.
Venue Information:
The conference is scheduled at the Amonoo-Neizer Conference Centre, Kwame Nkrumah University of Science and Technology, Kumasi-Ghana.
Conference Committee
Prof. Clifford Amoako
Conference Director
Prof. Emmanuel Adinyira
Conference Co-Director
Dr. Titus Ebenezer Kwofie
Conference Manager
Dr. Kofi Agyekum
Conference Secretary
Dr. Michael Nii Addy
Conference Co-Secretary
Mr. Philip Peprah-Yeboah
Conference Co-Secretary
Dr. Eric Simpeh
Logistics Chair
Dr. Stephen Appiah Takyi
Publicity Chair
Arc. Desmond Opoku
Co-Publicity Chair
Dr. (Mrs) Dorothy A. Amenuke Dr. Kafui A. Ocloo
Publication Chair Co-Publication Chair
Dr. Alexander B. Marful
Sponsorship Chair
Dr. OwusuAmponsah
Students' Research Chair
Scientific/Technical Committee
Emeritus. Prof. KwasiKwafoAdarkwaKNUST, Ghana
Prof. W. D. Thawala, University of South Africa, SA
Prof Clinton Aigbavboa, University of Johannesburg, SA
Prof. David J. Edwards, Birmingham City University, UK
Prof. G Ofori, London South Bank University, UK
Dr.ObuksEjohwomu,University of Manchester. UK
Prof. J. Ayarkwa, KNUST, Ghana
Prof. Paul Olomolaiye, UWE Bristol, UK
Prof D.K. Ahadzie, KNUST, Ghana
Prof. E. Badu, KNUST, Ghana
Prof. Samuel Amos-Abanyie, KNUST, Ghana
Prof. Emmanuel Adinyira, KNUST, Ghana
Prof. F. Emuze, Nelson Mandela Metropolitan University, SA
Prof. Morgan Tuuli, Ghana Institute of Management and Public Administration, Ghana
Prof. Rexford AssasieOppong, KNUST, Ghana
Prof.TheophilusAdjei, KNUST, Ghana
Prof. John TiahBugri, KNUST, Ghana
Prof. Anthony Owusu-Ansah, KNUST, Ghana
Dr. (Mrs) Dorothy A. Amenuke, KNUST, Ghana
Prof. Clifford Amoako, KNUST, Ghana
Prof. Humphrey Danso, Akenten Appiah-Menka University of Skills Training and Entrepreneurial Development, Ghana
Prof. Samuel Laryea, University of the Witwatersrand, SA
Prof.Rudith King, KNUST, Ghana
Prof. De-Graft Owusu-Manu, KNUST, Ghana
Dr. Titus Ebenezer Kwofie, KNUST, Ghana
Dr. Kofi Agyekum, KNUST, Ghana
Conference Fee
| | |
| --- | --- |
| International Delegates | $ 250 |
| Local Delegates | GhC 500 |
| Students | GhC 250 |
Keynote Speakers
| | |
| --- | --- |
| Emeritus Prof. AkwasiKwafoAdarkwa | KNUST, Kumasi |
| Prof. Ambrose Dodoo | Linnaeus University, Sweden |
| Prof. Clinton Aigbavboa | University of Johannesburg, South Africa |
| Prof. Fidelis Emuze | Central University of Technology, Free State, South Africa |
| Dr. Fred Amonya | Infrastructure Policy, Lyciar, UK. |
Source: Ghana.otecfmghana.com