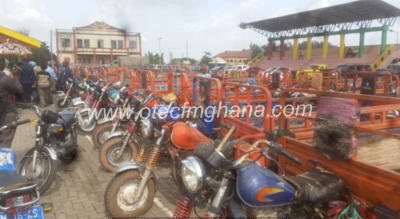 The Minister of Sanitation and Water Resources, Kofi Ada, has hinted that as part of efforts to regularize the operations of tricycles "Aboboyaa" in the waste management in the Kumasi Metropolis, a device (chip) will be attached to every tricycle that has been branded to collect solid waste.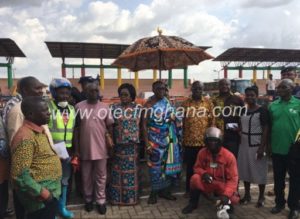 This, according to the sector minister, will enable the city authorities to monitor their (tricycles) locations and activities at their various offices and to adopt new measures for its effectiveness.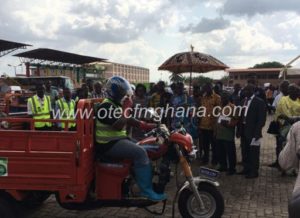 Mr. Kofi Ada gave the hint during the launching of "Branding of Aboboyaa" at the Kumasi Jubilee Park on Monday March 12, 2018.
The orange-painted tricycles have been registered with special identification numbers and tags, are to only carry solid waste and to differentiate them from those carrying foodstuffs and other stuff.
Apart from the tricycles, all managed dustbins provided by city authorities will also be bugged for effective clearing of waste.
"When I sit at my office the Mayor or any official sitting at the office can monitor the operations of the tricycles, whether they are complying with the rules. It will also help to identify dustbins which are full and uncollected," he said.
He commended the Kumasi Metropolitan Assembly (KMA) led by the Mayor, Hon. Osei Assibey Antwi, for setting the pace by regularizing the operations, and believed the concept will bridge the gap in solid waste collection and disposal.
"I commend the Mayor and his Assembly Members for setting the pace in regularizing the operations of the tricycles. This concept has created jobs in the city, it is convenient and effective as these "aboboyaa" are easy to maneuver in terms of access to poor roads to collect solid waste. The concept has put to an end when these tricycles were unregulated, nuisance to the environment by indiscriminately littering and dumping of waste. I therefore urge all district Assemblies to emulate the KMA to effectively control waste management," he added.
The Mayor of Kumasi, Hon. Osei Assibey Antwi, in his speech said the regularization of the tricycles is part of measures to ensure proper health and sanitation in the city.
"As part of efforts to make the city clean and green, the Assembly adopted a strategy of educating the public on the need to keep the environment clean by engaging the services of 150 National Service personnel, known as "Sanitation Crusaders", which was very successful. We also found out that the operations of the tricycles "aboboyaa" were also contributing to the unclean environment by littering with their uncovered buckets so we decided to give them training, which we did. We also decided to separate those collecting the solid waste, by branding them with yellow colour and special number with tags from those conveying foodstuffs," he explained.
He applauded the Sanitation Minister for tackling the management of solid waste to another level through the Information Technology (IT) by attaching chip to every tricycle to monitor their operations, an innovative he believed will help in making the city clean.
Source: otecfmghana.com/Francis Appiah