Akpeteshie' prices go up by 20%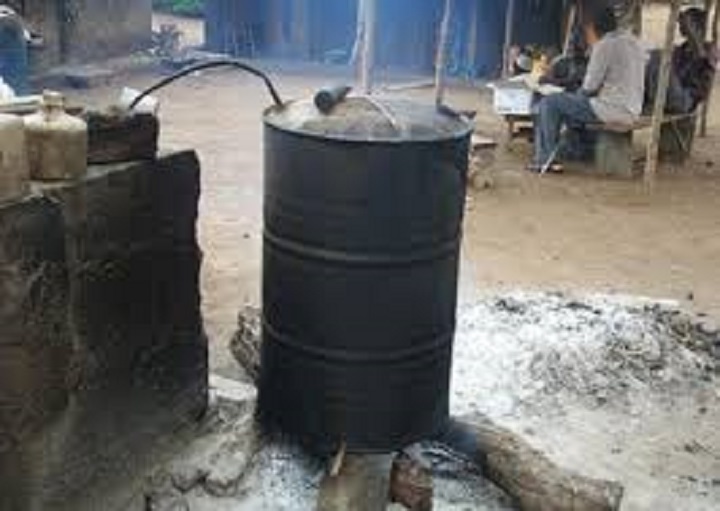 The cost 'akpeteshie' a local gin, has gone up across the country as a result of high cost of the raw materials used for the production of commodity as well as demands for homebrewed alcoholic drinks.
A bottle of akpeteshie is now up to between GHC6 to ghc7 from ghc5 and ghc5.50p. The price hike was caused by a sharp increase in demand for the drinks.
According to him, Akpeteshie was the most patronized drink due to its affordability. It is also prepared naturally, and does not contain any chemicals like other expensive drinks, and very much cost effective.
Speaking to OTECNEWS' reporters, Enoba Afia Aboagyewah and Piesie Akosua Bemah in separate interviews, Krofrom, Dechemso and Dr Mensah, majority of sellers did not hide their frustrations over the economic hardships as well as the high cost of raw materials which has affected Akpeteshie prices.
At Blue Kiosk, a popular drinking spot near the Dr Mensah in Kumasi metropolis, the bar attendant who spoke to OTECNEWS in condition of anonymity noted that because of the incensement in transportation costs and the prices of raw materials used in producing the local gin had gone up several time, but the prices of Akpeteshie had seen some marginal increment.
He explained that the price of one drum of Akpeteshie had moved from GH¢800.00 to GH¢1000.00 and as a result the small glass of the product also called 'tot' has also jumped from GP50 to GHC1.00
He disclosed that he previously used to sell at least three or four drums of Akpeteshie a month, but now it was very difficult to sell even half of that, as most of the customers were no longer coming to buy.
Akpeteshie is a homebrewed alcoholic spirit produced in Ghana and other West African nations by distilling palm wine or sugar cane juice. Other names for this drink include apio, ogogoro (in Nigeria), sorabi, keley, "hot" or "hot drink" and "kutukù" (in Nzema).
Although not professionally advertised, the stuff is very popular. Akpeteshie is brewed all over Ghana and you need no authority or license to own one and hence you decide how, where and when you will sell and at which strength.
Source: Ghana/otecfmghana.com