Electrical dealers call for enforcement of GIPC law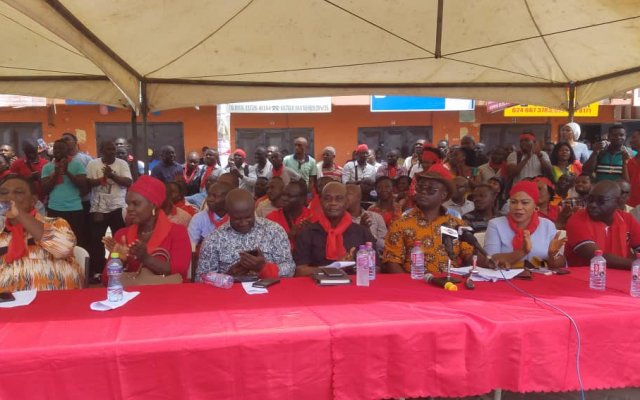 Members of the Ghana Electrical Dealers Association are calling on the government to protect the interest of local retailers by enforcing the Ghana Investment Promotion Centre (GIPC) Act 865.
The act which is in section 27 of the GIPC law prohibits foreigners from engaging in retail trade.
Ghanaian retailers in some parts of the country have in recent times had misunderstandings with foreign traders engaged in the retail trade.
Speaking at a press conference, Public Relations Officer of the Ghana Electrical Dealers Association, Samuel Asare Addo said they will prevent foreigners from engaging in retail trade if the government fails to enforce the Act.
"The action of the Kumasi traders was necessitated by the negligence of duty bearers and complete failure of state authority to monitor GIPC. This led to a complete invasion of some foreigners into retail trading, which is reserved for the citizen in order to avoid friction with the citizens as we witnessed last week. One cannot deny the fact that the failure of the authority to be proactive is the cause of this tension. Authority should make sure the right thing is done, so there is sanity," he said.
The Member of Parliament for Odododiodoo, Edwin Nii Lante Vanderpuye over the weekend said the law barring foreigners from engaging in retail business in markets needs some review to provide more clarity.
The Nigeria Union of Traders Association, Ghana (NUTAG) subsequently accused the Ghana Union of Traders Association (GUTA) of terrorizing Nigerian traders in Ghana.
In Accra, the Abossey Okai Spare Parts Dealers gave Government a two-week ultimatum to evict foreigners from the retail space or face their wrath.
Last week, a number of Nigerian traders left Suame Magazine after over 50 of their shops were closed down for engaging in retail trade contrary to Ghanaian laws.
According to Section 27 (1) of the GIPC Act, a person who is not a citizen or an enterprise which is not wholly owned by a citizen shall not invest or participate in the sale of goods or provision of services in a market, petty trading or hawking or selling of goods in a stall at any place.
The tensions also follow concerns over a growing anti-Nigeria sentiment in Ghana because of the involvement of some of its nationals in high profile crimes.
The Police in the Ashanti Region have assured Nigerian traders that it is safe for them to return to their shops after some of them were ransacked by locals on Wednesday.
The police in a statement said it had met with the leadership of GUTA and the Nigerian Union of Traders Association Ghana (NUTAG) and agreed on a resolution.
Source: citi