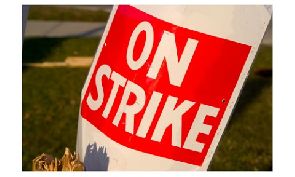 Members of the Wa High Court jury in the Upper West have declared an indefinite strike over their unpaid sitting and attendance allowances.
The group, at a media encounter in Wa to announce their decision complained that they have been working for close to two years without pay, adding that several appeals to the government to release the allowances went unsuccessful.
According to Jury members of the Wa High Court, they started unfolding their intention of today's strike action last Monday when they boycotted criminal proceedings at the Wa High Court, anticipating that the government would have addressed their concerns.
Three days after the boycott, the group, numbering about 25, this morning massed up at the forecourt of the Wa High Court where they declared an indefinite strike action in protest of the non-payment of their 21 months allowances.
A jury is a group of ordinary citizens, typically 7 in number, who are selected to determine the facts of a case and deliver a verdict based on the evidence presented during a trial.
The role of the jury is a critical aspect of justice delivery in Ghana's legal systems, particularly in criminal cases where they play the role of impartial fact-finders, community representatives, and determinants of guilt or innocence, as we as safeguarding against the potential abuse of power by the government.
Lawyers and accused persons who came to the Wa court this morning to defend their cases were disappointed when the court had to make adjournments due to the absence of the Jury.
A principal state attorney at the Upper West office of the Attorney General Department, Saeed Abdul Shakur, says the strike action will have dire consequences on justice delivery in the region and appealed to the government to address the concerns of the jury.