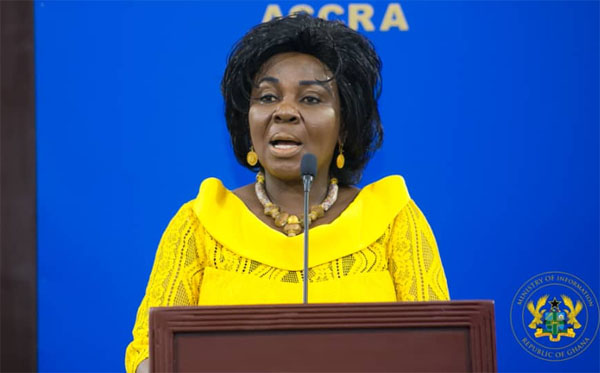 The case involving seven accused persons who are in court for stealing and or illegally receivig monies allegedly stolen monies from the Abelemkpe residence of former Minister for Sanitation and Water Resources, Madam Cecilia Abena Dapaah was called on Tuesday, August 8, 2023.

An amended charge sheet was presented to the court with an update on the properties retrieved from the two main accused whiles three other people were introduced on the accused list and one person discharged.

According to police investigators four additional houses said to have been bought from the stolen funds have been discovered as have been two new Honda cars (Acura), estimated at the cost of over GHc600,000 Ghana cedis.

The latest revelations add to the already existing houses and properties said to have been found at Amrahian and others in Tamale.

The accused list is now as follows: Patience Botwe, 18, hairdresser; Sarah Agyei, 30, unemployed, Benjamin Sowah, 29, plumber, Malik Dauda,34, unemployed, Christiana Achab, a trader, Job Pomary, a mechanic, and Yahaya Sumaila, Excavator operator, together, they have been slapped with 14 counts.

The latest counts comprised of a count of conspiracy, five counts of stealing and eight counts of dishonestly receiving

They are said to have stolen $1 million dollars, £300,000 euros and other properties including Kente and others.

Sarah Agyei and Christiana Achab said to be nursing mothers were each granted one million cedis bail to be justified by three sureties.

The sureties are also to deposit their Ghana Cards with the registrar of the court and not travel outside of the jurisdiction.

The rest of Patience Botwe, Benjamin Sowah, Malik Dauda, Job Pomary Yahaya Sumaila have been remanded into lawful custody.

https://drive.google.com/file/d/1eGPhszcdld90maZOuvaAWesfg8M3ZPoA/preview

This was after the Prosecution led by DSP Emmanuel Nyamekye prayed for the accused persons to be remanded for further investigations to be pursued.

But, the defence lawyers argued that, their respective clients are innocent until proven otherwise.

The Prosecution also indicated to the court that, the Attorney General's office will take over the case docket after full investigations are concluded.

Lawyers of the accused persons said to be nursing mothers are to provide proof of their assertion to the court while a baby said to be six months old was shown to the court as one of the babies under the care of a caregiver.

The eighth accused, Franklin Sarakpo is currently at large.

EIB Network's Legal Affairs Correspondent, Murtala Inusah, reports that, father of Patience Botwe, Kweku Botwe who was part of the five persons previously arraigned was discharged following the Attorney General's Office advice on the case docket.

The Court presided over by Her Honour Afia Owusuaa Appiah has adjourned the case to August 22, 2023.