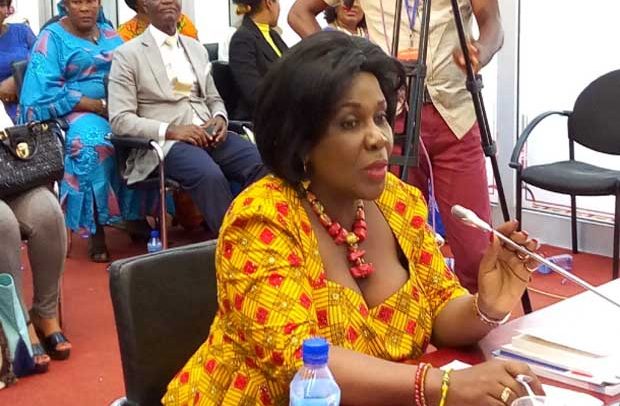 The Office of the Special Prosecutor has disclosed the amounts of money in the frozen bank accounts of former Sanitation and Water Resources Minister, Cecilia Abena Dapaah.
The OSP has revealed that it found $5 million and ¢48 million in Cecilia Dapaah's Prudential Bank accounts.
Also, it found ¢1 million cedis in investments and ¢700,000 in cash in her Societe General account.
Details from Kissi Agyebeng's Office have revealed that a cash amount of $590,000 was discovered during the search at her Abelemkpe home.
At the same residence, a sum of ¢2,730,000 in cash was found.
Joy News understands the former Minister's cedi and dollar accounts have been frozen by OSP pending further investigations.
The OSP on July 26 arrested Cecilia Abena Dapaah and conducted a search in her official residence at Cantonments.
Her private residence at Abelemkpe in Accra, where the said theft reportedly took place between July and October 2022, was also searched.
Sources told Joy News the OSP has filed a motion to confirm the seized money it retrieved from the former MInister's residence and to also confirm the frozen bank accounts.
The Office of the Special Prosecutor is investigating Cecilia Dapaah for corruption and corruption-related offences after reports that her house helps allegedly stole $1 million and other properties from her Ablemkpe house.
The Attorney General has requested the docket on the case from the police who are prosecuting the accused persons.
As the legal proceedings unfold, the public eagerly awaits the outcome of the investigation.
The case against Cecilia Abena Dapaah highlights the commitment of the Office of the Special Prosecutor in its efforts to combat corruption and hold public officials accountable for their actions.
Already, five out of seven accused persons in the Cecilia Dapaah theft case have been remanded in custody.
According to court reports, the thefts occurred between July and October 2022, with personal effects such as clothes, handbags, jewellery, and perfumes worth millions of cedis stolen from the former Minister and her husband, Daniel Osei Kuffour.