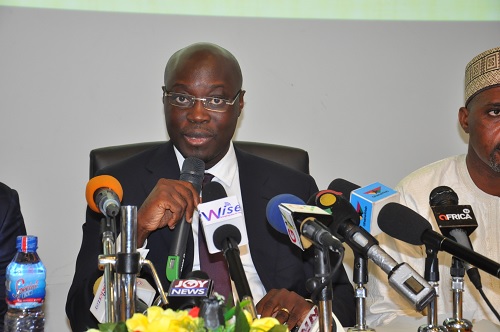 The opposition National Democratic Congress (NDC) is calling for the resignation of the Governor of Bank of Ghana (BoG), Dr Ernest Addison and his deputies.
The party has threatened to march to the premises of BoG to drag Dr Addison and his deputies from office if they fail to resign within 21 days.
The Bank of Ghana recorded a staggering loss of GH¢60.8 billion within the 2022 fiscal year.
Minority Leader, Ato Forson addressing journalists under the NDC's Moment of Truth series on Tuesday, August 8, 2023, accused Dr Addison of mismanaging BoG resulting in an IMF bailout.
"In this regard, we call for the resignation of the Governor of the Central Bank and his deputies within 21 days from today. We are resolved to embark on popular action to occupy the Central Bank and drive out the team of inept, callous and criminal mismanagers of the finances of this country and save the Bank of Ghana. The March to Ensure Accountability will begin in 21 days if the Governor of the Bank of Ghana does not do the needful and pack bag and baggage out of that sacred institution that he has so desecrated. Dr Ernest Addisson Must Go! There has to be an end to impunity and it is NOW!"
"This means the recklessness and mismanagement of the Governor of the Bank of Ghana has cost the nation twice what we are struggling and sacrificing to receive from the IMF amid major conditionalities".
According to the party, the BoG has become a crime scene, with its managers treading on a dangerous trajectory.
"The NDC party is on record to have informed Ghanaians on countless occasions that the Bank of Ghana has been on a dangerous trajectory, and indeed, it has now become a crime scene with dire consequences for all of us. Beyond the mismanagement of the economy and our finances, the spectacular recklessness and ineptitude of the Governor and his team has called into question the wisdom of leaving him at the helm of affairs of the Central Bank".
The NDC further accused the BoG of spending GHS97.4 million on foreign travels.
"Similarly, foreign and domestic travels of the Bank of Ghana cost the Ghanaian tax payer a staggering
GHS97.4 million, which is about 246% increase over the previous year".