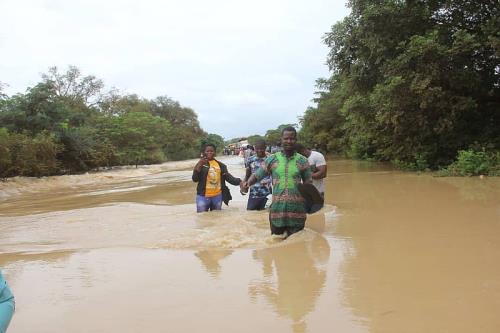 At least 12,000 people have been displaced following the spillage of the Akosombo dam, Dr. Senanu Kwesi Dzokoto, Deputy Director of Health Services in the Volta Region, has revealed.
The Volta River Authority (VRA) commenced controlled water spillage from the Akosombo and Kpong Dams on September 15, 2023, due to a consistent rise in the inflow pattern and water level of the Akosombo reservoir.
Thousands of residents in South Tongu, North Tongu, Central Tongu, Asuogyaman, and several other areas have had their homes submerged due to the spillage.
Speaking in an interview with Bernard Avle on the Citi Breakfast Show on Citi FM on Monday, Dr. Dzokoto noted that the health directorate was taking measures to ensure that these displaced persons were safe and had their pressing needs met in the interim.
"As of yesterday, we have close to 12,000 displaced persons. Our first immediate concern is to make sure that the 12,000 people are safe and free from any immediate risk. So some of them are in safe havens, especially in North Tongu, which is the worst-affected district in the Volta Region. And we have ensured that first of all, the sanitary conditions in the camps are quickly improved. We have also made mobile teams available to them, which are providing psychosocial support, and we are on hand to deal with any health emergencies," he stated.
Dr. Dzokoto stressed that they were educating residents on proper health behaviours to prevent them from contracting waterborne diseases.
"What we really want to avoid is to avoid something like cholera because that is the most common epidemic that may arise from a disaster of this nature," he added.
The Deputy Director of Health Services in the Volta Region also indicated that 25% of Mepe in the North Tongu District has been submerged in water.
"If you go to North Tongu, while we were there for the rapid assessment, about 25% of Mepe was under water, and even two-storey buildings had their roofs almost covered by water," he said.