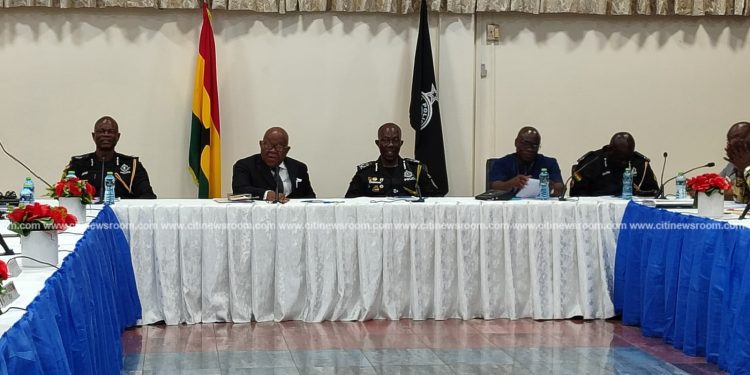 The New Patriotic Party (NPP) and the Ghana Police Service have reached an agreement on the election modalities for the upcoming NPP presidential elections scheduled for November 4, 2023.
The party has agreed for the police service to take complete control of security during the elections.
During an engagement involving both parties, Professor Aaron Mike Oquaye, the Chairman of the Presidential Election Committee for the NPP, urged the police to deal with individuals who would engage in misconduct during the elections.
"We are authorising you to take absolute control of all the processes that you regulate during normal elections in this republic. We have made a number of guidelines which are a matter of common consent and we have worked out the dynamics in such a way that we are working together and we are saying this to assure you that the regulations that the candidates have all signed are going to be the blueprint of the process, and anyone who disregards this should be dealt with and we want to establish that this country is a lawful nation.
Meanwhile, the Inspector General of Police, Dr. George Akuffo Dampare also called for cooperation to ensure the diligent execution of their duties.
"We want to assure you that on November 4, we are going to give you an overdose of security and it will be excellent and awesome and all we require from you is your support to ensure that the police will do their work."
On the other hand, Samuel Tetteh, the Deputy Commissioner in charge of Operations at the Electoral Commission, also indicated that preparations are well underway to guarantee a smooth election process.
"We know that this is an important election, not only for the NPP but also for the EC and the country as a whole, and we need to prepare adequately to make sure that the elections are conducted successfully and so far the engagements gone well and we expecting a successful election on November 4 and we are not leaving any stone unturned."
Source: Citi news